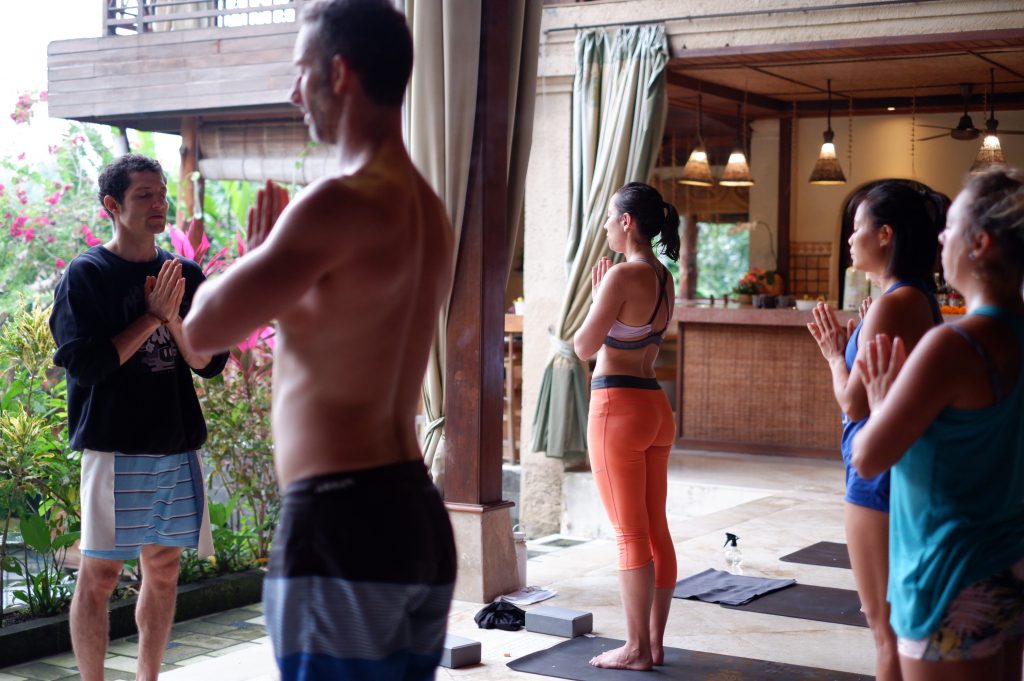 Develop a solid Ashtanga Self Practice in Primary and Second series
 Gain detailed knowledge about, breathing, alignment and how to modify all the asanas on Second Primary Series of Traditional Ashtanga Vinyasa Yoga according to your needs Anatomy apply to Ashtanga
 Sanskrti counting in Full Primary Series, how to teach, how to plan and run your own workshops base on Ashtanga
 Extra skills to develop strength & flexibility
 Hand on adjustment for all the asanas in Second Series
 Biomechanics
 Anatomy & Phisiology
 Indian Philosophy with Buddhis Philosophy
 Vipassana Meditation
 Become in an professional Yoga Instructor
 Train your eyes as Yoga Trainer
Location: Komune Resort & Beach Club
Date: 2- 31 July 2020
Led Teachers: Kunkanit Phrombut & Ricardo Martin
Reservation Fee: $800 (non-refundable)
Limited to 14 students only
CONTACT US TO INFO@BRIGHTYOGA.COM
COURSE TUITION
***Kindly Notice that the course & Accommodation are priced separately***
Deposit: 800 USD$ To Reserve your Spot
Full Price:  3850 USD$ Pay Before April 2020
Early Bird Price: 3650 USD$ Pay Before December 2019
ACCOMMODATION OPTIONS
Accommodation Sharing: 2,175USD$
Private Accommodation: 3,973USD$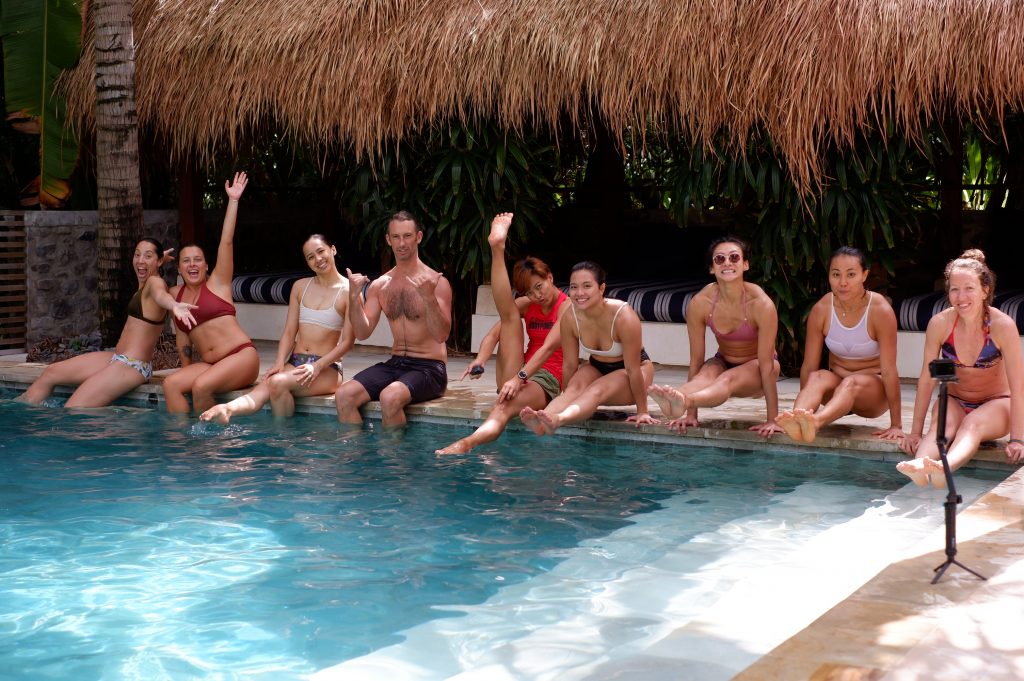 Komune Resort and Beach Club is blessed with a hypnotizing view of the world famous Keramas surf break. Komune is conveniently only 40 minutes away from Ngurah Rai International Airport. With its pristine volcanic beach, this beachfront Bali resort offers a beautiful experience of spending leisure time in a natural luxury hotel. This Beach Club was voted in the top 5 in Asia.
After our fantastic morning practice you will have the chance to relax by the swimming pool enjoy a high-quality cuisine and if you wish to get into the water and enjoy the waves at Keramas Surf Break
Simple, fresh and testy is the mantra at Komune Resort & Beach Club.The food offers at Komune is and you will find a wide range of dishes from vegetarian to not vegetarian with a touch of Asia, Europe, and Australia cuisine. The body deserves a reward after a hard day of yoga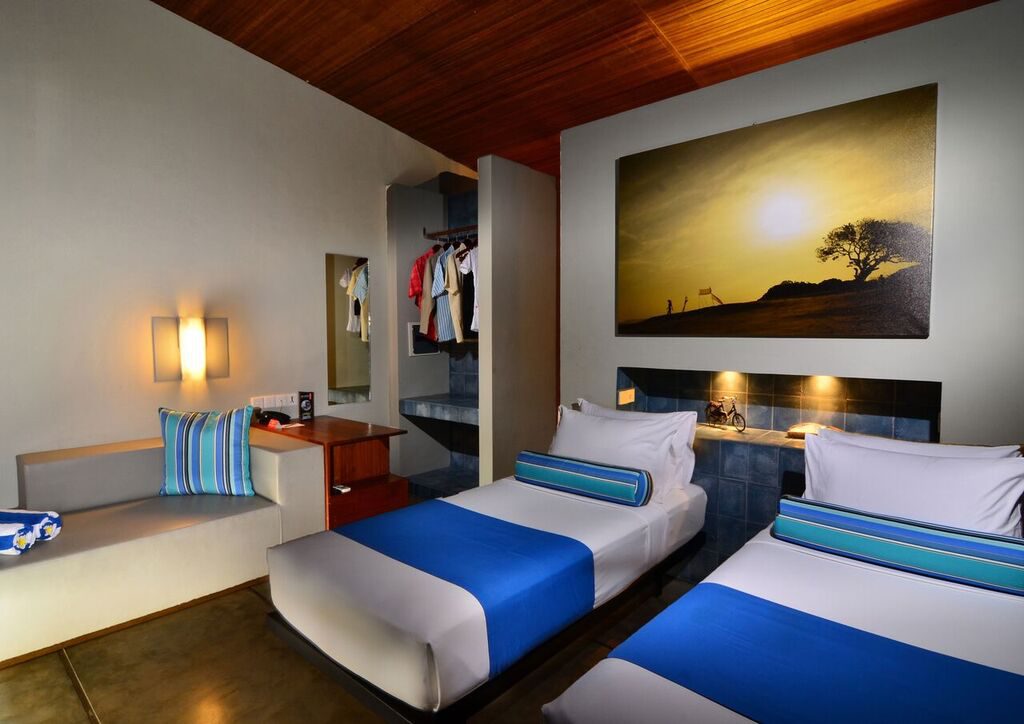 The room can be updated to private upon request with an additional charge
***IMPORTANT if we don't have any person to share the room with, the student will be responsible to pay for half of the price of the accommodation***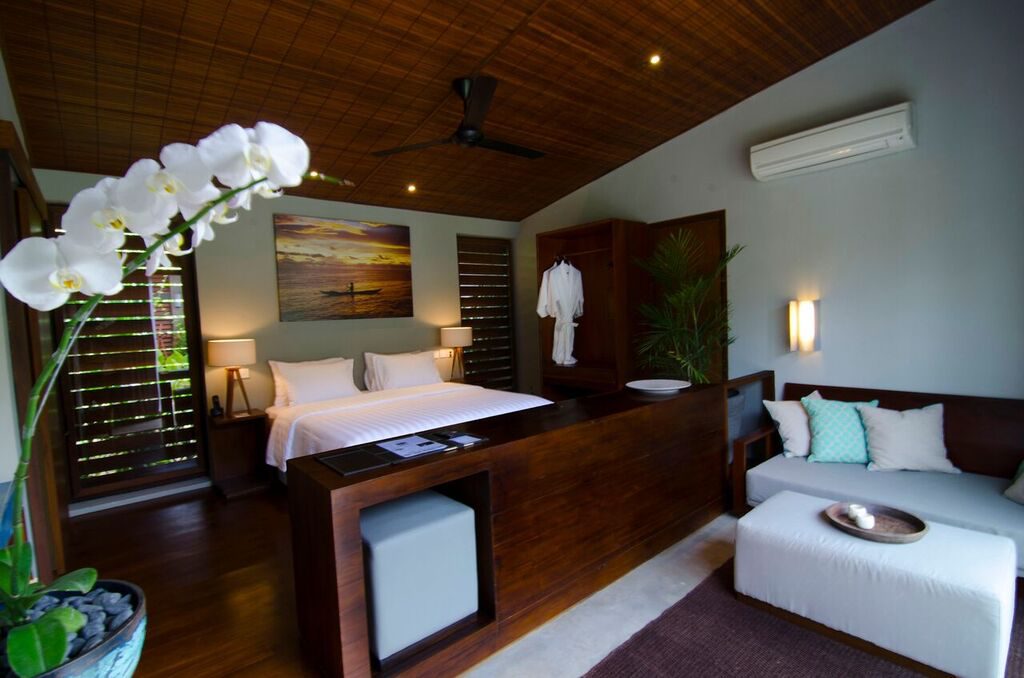 The room can be updated to private upon request with additional charge
 Develop a solid Ashtanga Self Practice in Primary and Second series
 Gain detailed knowledge about, breathing, alignment and how to modify all the asanas on Second Primary Series of Traditional Ashtanga Vinyasa Yoga according to your needs Anatomy apply to Ashtanga
 Sanskrti counting in Full Primary Series, how to teach, how to plan and run your own workshops base on Ashtanga
 Extra skills to develop strength & flexibility
 Hand on adjustment for all the asanas in Second Series
 Biomechanics
 Anatomy & Physiology
 Indian Philosophy with Buddhist Philosophy
 Vipassana Meditation
 Become in a professional Yoga Instructor
 Train your eyes as Yoga Trainer
Anyone that completed our 200hrs course that already a completed primary series of Ashtanga Vinyasa Yoga
One full year of Yoga Teaching experience
Three years of Ashtanga Yoga Practice experience
Students with mental health
Students older than 18 years old
WHAT IS INCLUDED IN THIS COURSE?
Accommodation Sharing room at Komune Resort & Beach Club
A la carte breakfast
Free High Wifi Access
Ashtanga Second Series Manual Ashtanga Second Series Chart Bright Yoga Back
Be a part of our International Yoga Community
Free Use of the facilities
Fly tickets & transportation
Yoga Mats. The Resort has Yoga Mats, however, we highly advise you to bring a thick mat that can support your joints for the Ashtanga practice
Lunch & Dinner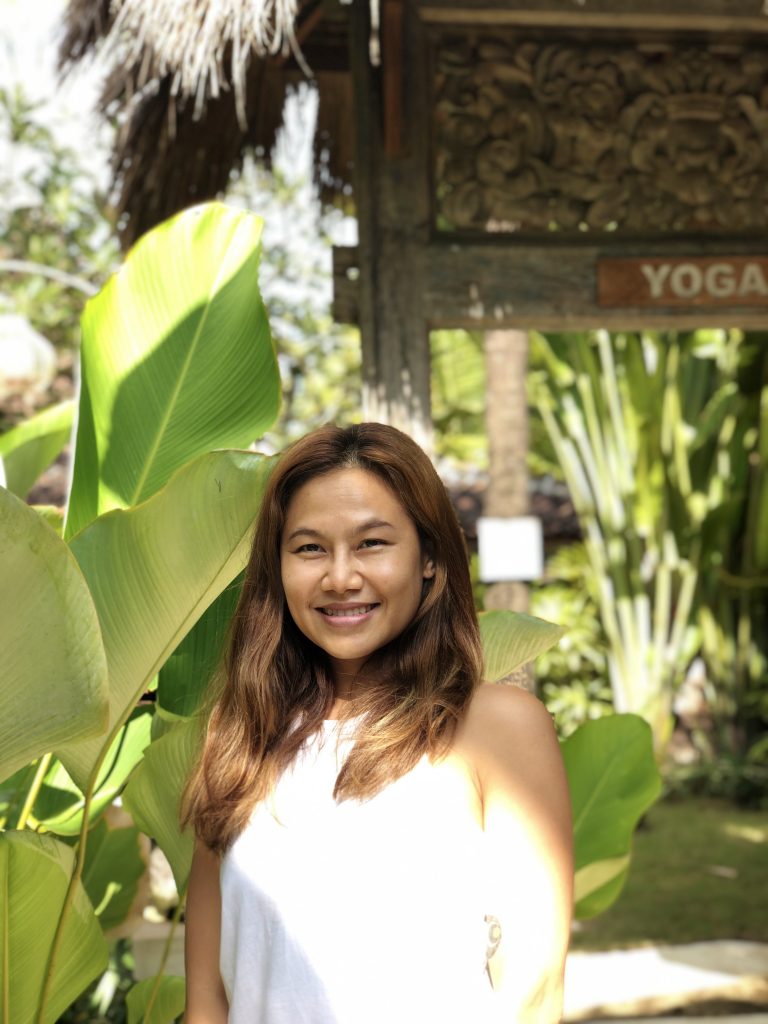 Kunkanit Phrombut (Bright Yoga Director)
Joy began to practice yoga in 2005 and quickly realizes it was what she really wanted to do in life, so she continued her yoga journey, practiced and learned with many teachers around the world and studied many different styles of yoga to gain more knowledge and get a deeper understanding of yoga.
Ricardo Martin (Bright Yoga Director)
Ricardo started to practice Yoga almost ten years ago back in my home town in Venezuela, where I soon found this was something I wanted to pursue full time – loving what yoga was to me, and how I could share this with others. After he trained with Larry Schultz in 2010 soon he started to led Yoga Teacher Training, so far Ricardo and Joy had been certified more than 500 Yoga teachers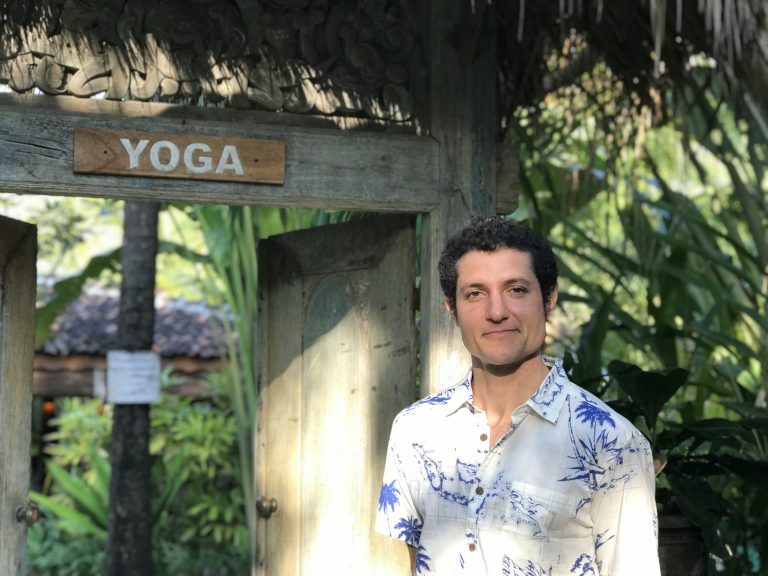 Biomechanics / Anatomy & Phisiology / Indian Philosophy with Buddhism Philosophy / Vipassana Meditation
SAMPLE OF TEACHING SCHEDULE
Please notice that the schedule can be adapted depending on the needs of the group and requirements from the teachers
7.00 – 10.00       Asana Practice &Training
10.00 – 11.30     Brunch Break
11.30 – 14.30      Theory (asana clinic, hand on adjustments and more)
14.30 – 15.00     Break
15.00 – 17.30     Asanas Technique, Learn how to teach
MORE ABOUT KOMUNE RESORT & BEACH CLUB
This place offers you along with Bright Yoga, the opportunity to have a memorable yoga experience. The natural black Sand Beach, The swimming pool with beach view, the natural gardens the delicious food and the friendly staff at Komune will make this experience something remarkable
Enjoy During our breaks surfing, snorkeling during the low tide, massage, sunbathing, swimming and much more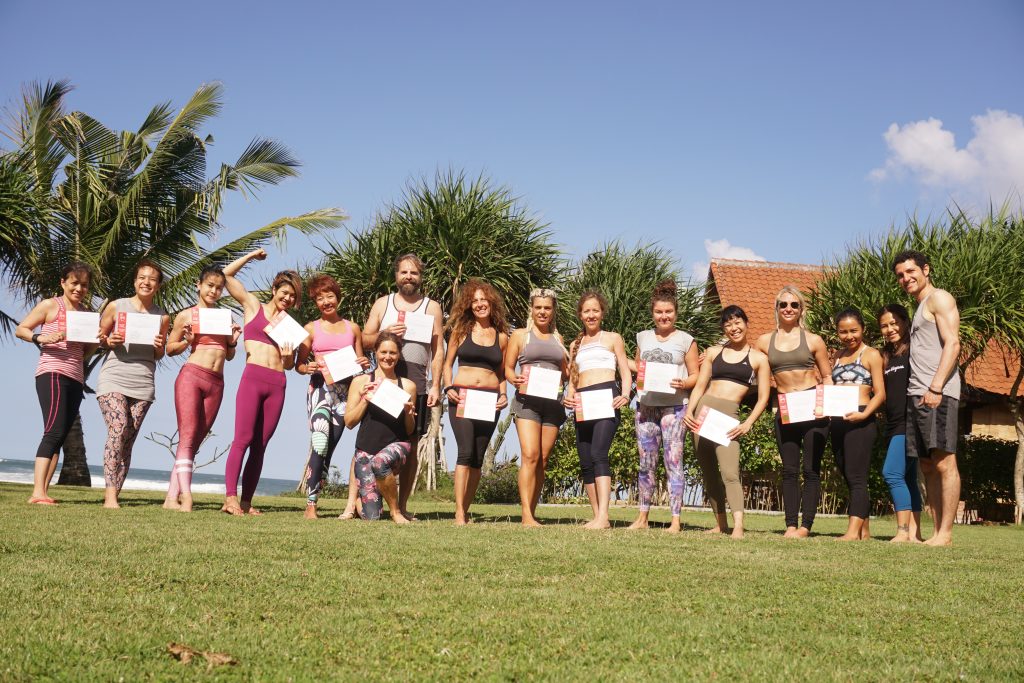 APPLY IN THREE SIMPLE STEPS
 Fill & send the Application Form
 In the next 24 hours, we will email you back according to your application. If you didn't hear from us kindly send us an email to info@brightyoga.com
 Reserve your place by paying for the deposit using PayPal or Bank Transfer