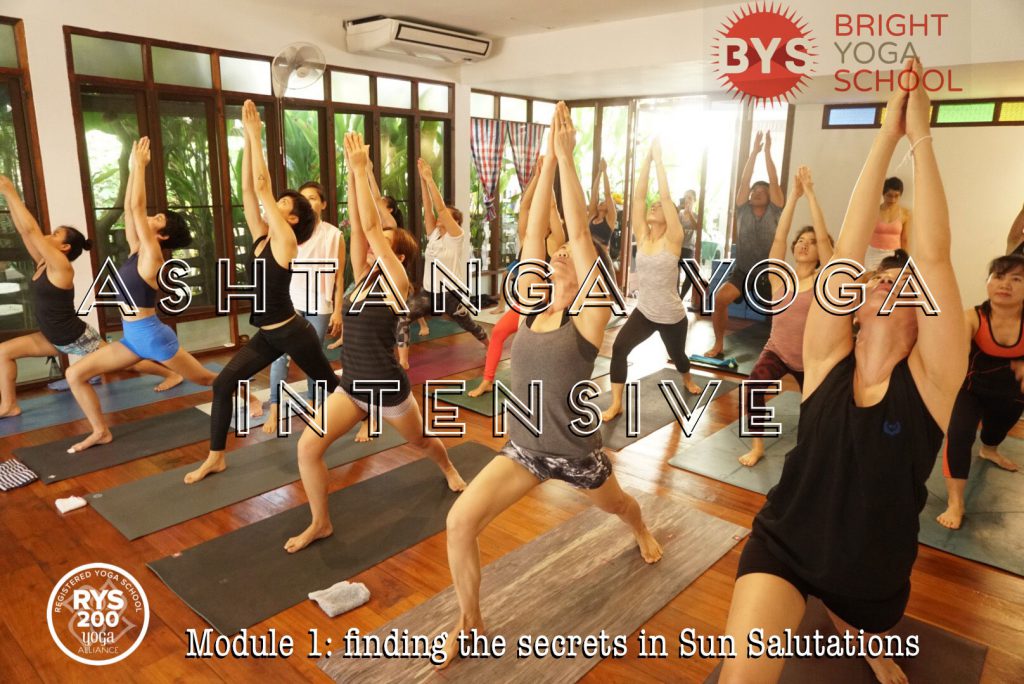 Location: The Yoga Practice by Kru Joy and Ricardo
Date: 3 & 4 June 2017
Number of hours a day: 8 hours a day of studying
Full Price: 9,500THB
Early Bird Price: 8,500THB, pay before 31 May, 2017
Special Bonus: 2 free Mysore Classes
Description
Sun Salutations is the first set of movements you will practice in Ashtanga Vinyasa Yoga and Rocket Yoga. These set of movements linked with the breath when is practice correctly can help you to build up the rest of the practice, as this 9 movements for Suryanamaskara A and 17 for Suryanamaskara B will help you to warm and open up the main joints in the body, it will prepare you to move in a safe way into the standing asanas. In the past the practitioner will practice Sun Salutations until he/she reach 30 round each, this will ensure that the student will be ready to get into the standing asanas and from there into the seated asanas as well.
These days most of the practitioners pay less attention in these movements and only engage themselves in those asanas that represent a challenge for them, however practice with more awareness during the Sun Salutations can help you to improve your overall practice.
During this 8 hours of Ashtanga intensive
you will have the chance to learn about
Breathing
Alignment
Drishty
How to approach to the Sun Salutation in order to build up your practice
Technique in how to float up
Foundation of Sun Salutations
This short course is suitable for both practitioners and teachers alike.
Collect hours with us toward 200 Hours Certification
With Bright Yoga.
How to apply?
Contact us directly to 093 054 4449 or you can write us a private message to
"The Yoga Practice by Joy & Ricardo"
Let's find the secret behind this movement
Join us and improve your practice