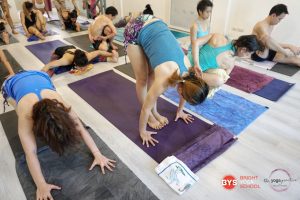 According to Larry Schultz, Ashtanga Vinyasa Yoga can be defined as "a fixed sequence  of movements where you use Ujjayi breathing, Bandhas, and Dristi to create transformation."
When these three elements — Ujjayi breath, Bandhas, and Dristi — are combined during the asana practice, the attention will move inward, giving the student the opportunity to move the attention inward, helping the students to realise about unattended or unresolved issues or emotions, resentment, anger, or any memory from the past, present, and past lives. It is only when we have the ability to see whatever is inside of us can we begin  progressively letting go of these past experiences, whether good or bad. The first step in inner transformation is to realize where you are, and then you will realize exactly in which direction you have to move towards.
Ashtanga Vinyasa Yoga, when approached in the traditional way, is a great practice method to promote transformation. If you dedicate yourself with this method, you will have to practice the same sequence everyday, and stop whenever the teacher asks you to stop. This may sound boring to some, but this is actually one of the strongest points of the practice — be able to realize how the mind fluctuates through the same sequence or stimulation. This awareness in your practice will give you a very clear idea of the tendencies and attachment of the mind.
By understanding how your mind works, accepting its tendencies and attachments, you will give yourself the ability to change and improve your life, and also will give you the tools on how to understand and support others, as all these fluctuations that you witness in your practice are part of our human condition and they will be presented with more or less intensity in others.
Even if the practice seems to be very physical, it has the potential to change your life in a positive way. With all of that said, we would like to invite you to practice, and experience the benefits described above, regardless of your age, gender, flexibility, or strength.  
Have a good luck in your Yoga Journey